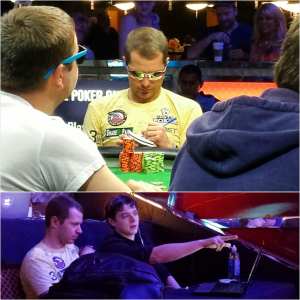 In this video, I share my thoughts from my first two weeks at the 2015 WSOP, including final tabling the $5,000 event and also launching my new multi-author book project, Excelling at No-Limit Hold'em. Even though the first two weeks started off fairly tough, the last few days have been amazing.
Thanks to everyone for the good luck wishes and for the kind words. I greatly appreciate them. Also thanks to both the authors and the fans who came by the Gripsed booth at the WSOP for the official launch of Excelling at No-Limit Hold'em. I couldn't be happier!
If you like this type of video blog, let me know and I will continue making them. Rest assured, I will keep playing my best at the WSOP and will do my absolute best to bring home a bracelet. Thanks for watching!